The Los Angeles Lakers won the 2020 championship a little over a year ago, where they beat the Miami Heat in six games. LeBron James finished with a triple double and Anthony Davis added 19 points and 15 rebounds. Davis has since missed 58 games the last two seasons and is expected to be out 2-4 weeks after suffering an ankle sprain in the first half of the Lakers 106-101 victory against the Utah Jazz. Davis is expected to be re-evaluated sometime after the All Star break. This is disastrous for the Los Angeles Lakers who are 27-35 and are currently in the 9th spot in the Western Conference, and many people are starting to question if the Lakers should trade Anthony Davis.
Stephen A. Smith, on NBA countdown, made comments on how the Lakers can retool this team beyond this season, commenting that "Day one of the offseason, Rob Pelinka needs to be on the phone shopping his big man." Anthony Davis is averaging 23.1 points and 9.1 rebounds, which is almost identical to his career averages. Smith went on to highlight the talent of Davis, but still questions his durability. "His value is his value as a player, but durability is a question mark at age 28."
This is the same Davis who was elected to the NBA 75th Anniversary Team and is recognized as one of the best players to ever play. The Lakers also had to send Lonzo Ball, Brandon Ingram, Josh Hart, and three first round picks to acquire the All Star forward.  This was a steep price to pay, which is why it will be hard for the franchise to trade him.
.@stephenasmith says the Lakers HAVE to trade Anthony Davis beyond this season 😳

"His value is his value as a player, but durability is a question mark at age 28." pic.twitter.com/nw5BgowWvm

— NBA on ESPN (@ESPNNBA) February 13, 2022
Rough Start
Many people viewed the Lakers as title favorites coming into the 2021-2022 NBA season. People around the league were also questioning the age of  this team. The eighteenth All Star, LeBron James, was never concerned with the Lakers age. "I've heard this before in Miami and we know what happened with that… I'm 19 years into this thing, this game is won between four lines not on paper." The Lakers average age going into the season was 31.2 years. The Lakers have five future Hall of Famers in LeBron James, Anthony Davis, Russel Westbrook, Carmelo Anthony, and Dwight Howard. They believed their experience and talent would separate them from the rest of the league.  However, this season has not lived up to their expectations and many times they have looked liked an older team.
The Lakers faced the Phoenix Suns in just the second game of the season. During a timeout late in the second half, Davis and Howard had to be separated after words were shared between the two that led to an altercation. After the game, Howard said there is no issue with Davis. "We have no issues with each other… Don't try to make this an issue between me and AD, or try to cause a problem with a team." This incident was only the beginning for the Lakers woes.
"We squashed it right then and there. We just had a disagreement about something that was on the floor."

— Dwight Howard on his altercation with Anthony Davis

🎥 @kylegoon pic.twitter.com/RaZAoxM8Dm https://t.co/yQBmqEXLst

— The Athletic (@TheAthletic) October 23, 2021
The team struggled out of the gates going 12-12 in just 24 games into the season. James was sidelined 11 of those games with an abdominal strain. A month later, they faced the Minnesota Timberwolves, when Davis suffered a sprained MCL in his left knee and was sidelined for four weeks. Injures are a big reason why they have had troubles gelling as a team this season. Davis' absence is also a huge part of the struggles on the defensive end. The Lakers are ranked 20th in defense, but nobody expected this team to be a juggernaut on defense. However, many expect them to at least be a top 10 offensive team with their collection of talent, and yet they are also 20th in offense. The struggles to integrate Westbrook have really hurt their offense this season as well.
Westbrook Saga
It safe to say that Russel Westbrook's time in Los Angeles has been a disaster. Westbrook is averaging 23 points, 7.4 assists, and 8.5 rebounds for his career. This year he is averaging 18.1 points, 7.3 assists, 7.7 rebounds, and 4 turnovers. He has also notably struggled playing alongside James. James thrives when he is surrounded by shooters, but  Westbrook is only a 30% from three for his career. The Lakers have also played a lineup with two big men for most of the season, which has prevented open driving lanes for Westbrook who thrives in driving downhill.
Head coach Frank Vogel and Westbrook have also not seen eye to eye this year. On January 19th against the Indiana Pacers, Westbrook was benched in the final moments- while still losing the game 111-104. It was reported that Vogel had already had discussions about benching Westbrook. "I was playing the guys that I thought were going to win the game," he said during the postgame interview. Vogel went on to bench Westbrook again in the loss against the Milwaukee Bucks in the final three minutes. The Lakers were down by 24 at the time and cut the deficit to 10 without Westbrook. After the game, Westbrook criticized Vogel's rotations. "You never know when you're coming in, you never know when you're coming out… You never know a bunch of things. And I speak for me personally, so it's a difficult process to be able to figure out and create some rhythm and some consistency where we can actually see what we're able to do as a team."
Vogel has put many questionable lineups on the floor all season. He is identified as a defensive minded coach, but we have watched this team struggle on that end of the floor.  Vogel has played a part in Westbrook's struggles with his lineup choices too, but the absence of Davis and his versatility has possibly prevented us from seeing Westbrook at his full potential in this offense.
Lack of Assets
The Lakers have struggled for many reasons this season, but they also don't have the assets to improve the team. Everyone on their roster is on a minimum contract except for Anthony Davis, LeBron James, Kendrick Nunn, Russell Westbrook and Talen Horton-Tucker. Nunn has yet to play this season after suffering a bone bruise in the preseason. Horton-Tucker has struggled mightily this season after signing a three-year, $32 million contract extension this past off-season. The 2027 pick is the only pick they could have traded this season after trading all of their other picks in the Anthony Davis trade. They were not willing to trade this pick for many reasons.
Many believed they would try to trade Westbrook at the trade deadline, but his contract is difficult to move considering he is making $44 million this season and  $47 million for the following season. It would also be hard to move this type of contract without a first-round pick attached. There is also no way they would consider moving James. This now brings us to Davis. He is considered the only real asset for the Lakers despite his injury history. He is still averaging 23 points, 9 rebounds, and is shooting over 50% from the field. He still considered a top 5 talent when healthy, but unfortunately has not been able to stay on the floor.
Trade Anthony Davis?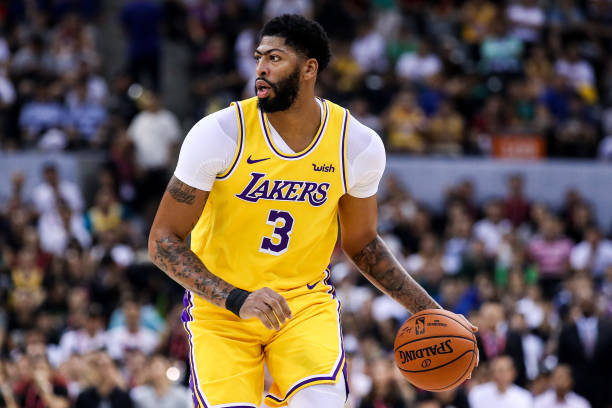 It is frustrating for many to see Davis miss these many games, however, I do not believe the Lakers can trade him due to how well he produces when healthy. There are not many players better than Davis you can put alongside James. Considering that James is in his 19th season, you have to maximize this small window to win now. The Lakers are most likely headed for the play-in games. If  they make it out of the play-in,  they will likely go home in the first-round facing either Golden State or the Phoenix Suns. The Lakers need to retool this team in the off-season and pray for a healthy Anthony Davis.