Adolis Garcia. Many may not know the name yet, but they will soon enough. His performance in the opening month of the MLB season suggests it.
The 28 year old Cuban import signed with the St. Louis Cardinals organization in 2017. Adolis then answered the call up to the bigs in 2018 for 21 games. Garcia was traded to the Texas Rangers in December of 2019 for cash considerations. Now, in 2021, he has been a more than pleasant surprise for Texas. 
26 games and 109 plate appearances into his 2021 campaign, Garcia has burst into the scene hitting .297 with a .943 OPS to go along with 9 home runs. And he's been doing this all since April 15th, having the most in baseball over that span. He also ranks second overall in the bigs for home runs tied with the likes of Stanton, Bryant and Castellanos currently. Garcia has been nothing short of electric for the Rangers. He hit multiple late or extra inning home runs and clutch plays in center field. The guy has a flare for the dramatic and has helped provide an exciting start to the season for Texas.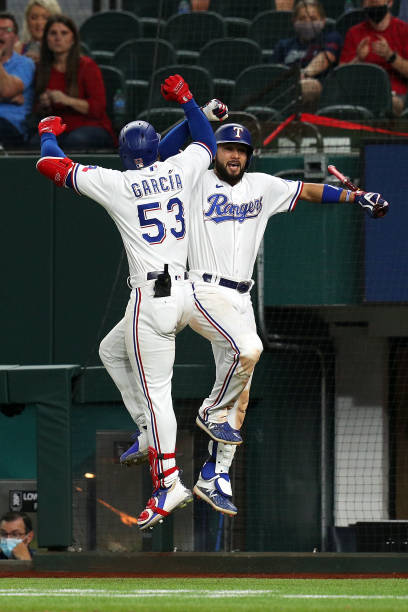 Garcia is just the latest to burst onto the MLB scene as we have already been witness to numerous stories of the same line. Garcia ranks first among rookies in home runs and RBIs and is providing a much needed spark to the Rangers. A team that has started out 2021 playing above expectations hovering around .500 and playing good baseball as of late. 
Hey there…

MLB HOME RUN LEADERS

10–Martinez, Acuna, Ohtani
9–GARCIA, Bryant, Castellanos, Stanton, J. Ramirez

— Jared Sandler (@JaredSandler) May 9, 2021
The season is still very young with over 130 games to play, but Adolis Garcia is a name that Ranger fans have quickly embraced. For he has been the best rookie in baseball trough the opening month of the season and is a way-too-early favorite to win the 2021 AL rookie of the year.